This is from a recent post on the "Occupy Democrats" FaceBook page.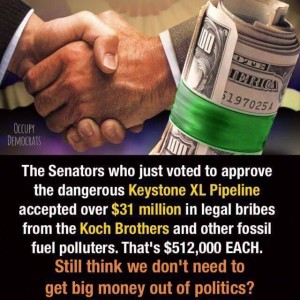 Ohhhh! The Koch Brothers!!!!
The very essence of evil for liberals. The mere mention of this name brings out the fangs of liberals everywhere.
Never mind that big democrat donors have given piles of money to defeat the Keystone XL Pipeline and they might have money on their minds as the reason for doing this.
"Steyer has received criticism for his campaign against the Keystone pipeline. According to U.S. House Representative Lee Terry (R-Nebraska), Steyer would profit personally if Keystone is not implemented. Farallon Capitol, the hedge fund that Steyer founded and resigned from in January 2013, has invested billions in the TransMountain Pipeline System, which would compete with Keystone XL. U.S. Senator David Vitter (R-Louisiana) also accused Steyer of hypocrisy because of the possible financial connection between Farallon Capitol and the TransMountain pipeline."